There aren't probably any fundamental innovations possible in flyfishing or fly tying. But occassionally someone comes up with small tools and gadgets, which make us take a closer look. The multiclamp, invented by German flytier Christan Kuchelmeister, distributed through SwissCDC, is such a tool. It unites superior quality and function at a moderate price, and is a great help at the tying desk!

purpose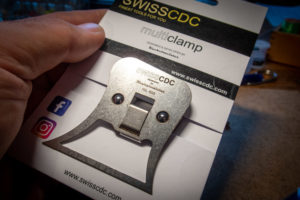 The multiclamp is in its basic attributes similar to clamps from other brands, such as Marc Petijean, Stonfo asf. Probably every flytier has wished for a third hand occassionally… especially when it comes to dubbing loops with various natural hair dubbings (marmot, hare, fox & friends) or feathers: hold the feather with one hand, dubbing loop with the other, scissors…? A clamp helps, as you can first clip the feather in the clamp, then lay it aside, prepare the loop, and procede…
construction and design
The multiclamp is made up of five parts: two plates from stainless steel, two stainless ball bearing balls as a hinge, and a stainless spring to hold it all toghether and "load" the clamp.  Very unusal but of great help is the fact, that a large window has been cut out directly behind the working edge – you can easily see how much material you grabbed, how the alignment is, and you can adjust it easily with your fingers.I haven't seen this in any of the other clamps on the market – and wonder why noone has come to this solution earlier.
The overall shape is assymetrical, and very pointed almost like forceps on one end. And just like with forceps, you can work very precise with this tool.
Noteworthy is also the fact, that the multiclamp is made in Germany, and not in Asia, as with most other brands.
usage
The multiclamp feel familiar the moment you take it into your hands. The jaws close perfectly, and they grab everything very reliably: CDC, marabou, deerhair and various dubbings. Especially the beautiful purely natural dubbings are sometimes hard to wind onto the thread – and some of the clamps by the abovementioned brands have failed to hold them aswell. Here the cooperation between Kuchelmeister and SwissCDC makes perfect sense, as this brand is distributing a lot of these high quality natural dubbings.
But the multiclamps also secures craft fur very well, and I have tied many small trout- and perch-streamers with it. Maybe they will come up with a larger tool for pike- and saltwater streamers?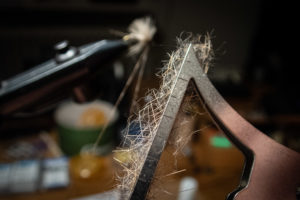 With the straight edge of the jaws you can mix your dubbing on the desk and dose it perfectly – the multiclamp really deserves its name.
summary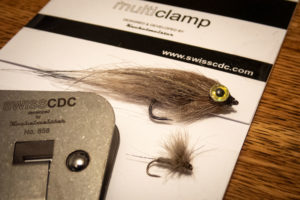 The multiclamp is a great tool, and the best clamp I have so far held in hand. It is a perfect additon to your tying desk, no matter if you tie dries, nymphs or streamers. The local production is sustainable, as it avoids long distance transports, and the German and Swiss engineering and manufacture provides absolutely superior quality. The price of 29,50€ is okay, especially if you consider that this tool will hold a lifetime!