A short while ago I visited my former university in Tübingen for the first time after many years. There, I was happy to combine business with pleasure… so after my appointments at the university I went fishing with my mate Markus, which I have been known for years and with whom I had often gone fishing when we were students.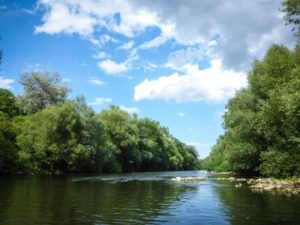 The Neckar-River in Tübingen is not that bad at all. There are plenty of fish… mostly coarse fish and especially chubs, but we regularly caught pike, trout and what interested my especially that day: barbels!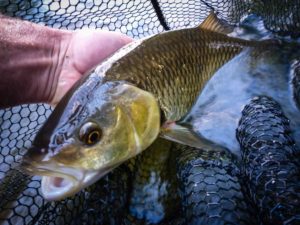 Markus has kept on fishing this river for all those years and knows the water very well. So he was also able to tell me where I would find some barbels. I tied a heavy gold head nymph to the tippet and a began to systematically fish a deep trench.
I lost THREE BARBELS in the fight until I was finally able to land the fourth one – it measured around 60cm and I was superhappy: mission accomplished!  I also caught a few chubs, which can grow to massive dimensions here in the Neckar River. And although they can be annoying when you are targeting a different species, there large chubs are a lot of fun on the flyrod.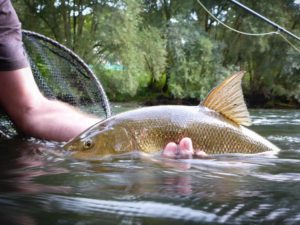 In the end it was a wonderful evening full of memories… memories of the good old times, when we as students used to fish this water after our classes and then sit long into the night at the waterside, drinking beer and telling us stories of all the fish we had caught here.