Switzerland has so many mountain streams and lakes, that no fisherman can ever hope to fish them all in his entire life! The region Graubunden is especially rich in these high mountain waters, and therefore has been on my bucket list for a long time already!
When my Swiss friends Dani and Rolf invited my for a weekend of fishing, the time had finally come! I did have some respect for this kind of trip I admit, as I do not have much experience with this kind of waters. Also, I did not know how well I was prepared physically to high altitude and hours of crawling up the mountain sides.
We started early in the morning when the valleys still lay silent in the shadows, while the mountaintops already glowed orange in the light of dawn. The landscape was breathtaking, it looked almost like images I had seen from Greenland or Siberia.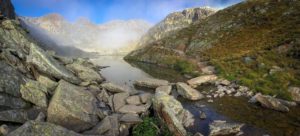 When we reached the first lake, the fog of night still lay on the water, and not a single ray of light had yet touched the surface. It looked magical! Talin, the only one among us who fished with spinning gear, was the first to catch a small trout. Motivated by his success I tought a streamer to be a good choice on the flyrod but only got an occasional follower here or there. Around noon the others wanted to hike on to the next lake, but I had not yet managed to catch a single fish, which did make me a little desperate! And since I had tried almost everything, including nymphs, I did tie on a dry fly ALTHOUGH there was no surface activity at all, and I expected nothing.
But how wrong I was!!! Only seconds later I had caught my first little alpine char! From this moment on, it all went smooth…. we moved on to other lakes and later also fished a small stream, and it was a feast! The browns we not very large and you could see the harsh circumstances reflected in their stature, some with a huge head and eyes and a slender body. Others dark like the rock in their pool, but all were beautiful in a way, as was the landscape.
Time went by quickly and I was so focussed on the fishing, that I only realized how exhausted I was when I sat down to wait for the others to catch up. On the way back I must have plodded along, not talking much, but probably smiling as I do everytime I think back to this wonderful experience!
Many thanks to Dani for organizing this fantastic trip!