Just had to realize again, how blessed with trout waters we are in Southern Germany.
My brother stopped by on his way back from Slovenia a few days ago. I must admit that I was a little bit jealous as he recounted his holidays, the emerald waters and the beautiful fish he had caught. As always, we also planned to go fishing together in the vicinity, and so we did a few days later.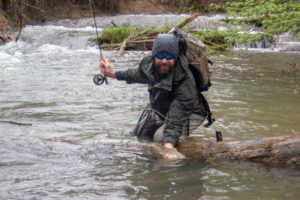 The small stream we had chosen was new to us. It looked similar to many other streams in my area, but beautiful nevertheless: cut into the limestone cliffs of the Swabian Jura, winding through meadows and beech forest with many undercut banks and deep pools, sometimes dropping over a small edge of calcareous tufa. This kind of water is what I know best and love most.
When I go fishing with my brother, it is rarely just a sunday walk. It feels more like an expedition, with many hours of walking, crawling through the bush and climbing up and down the rocks. Knowing that we usually wrack ourselves on such a day, I packed a small camping stove and two tins of goulash.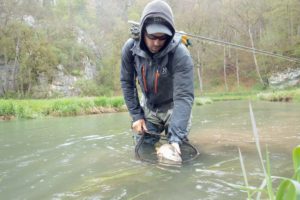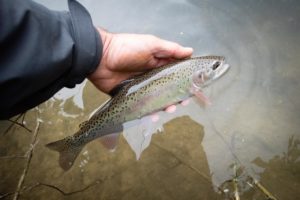 Fishing does overwrite my hunger feeling usually, but if I don't eat for 12 hours I will start loosing my concentration, eventually start shaking and to be cold… so this time, I was prepared! And I was excited to explore a new water.
As we arrived, we saw two elderly men, fishing with spinning rods, huge spoons and treble hooks, and we were a little confused… the regulations said fly-only, it defined max. hooksize and all sorts of other, relatively narrow restrictions. Those fellas said the had been fishing here for 50 years already and noone would take this from them… alright then…. we expected the least, and hoped that they hadn't hit every single fish the had caught those 50 years on its head.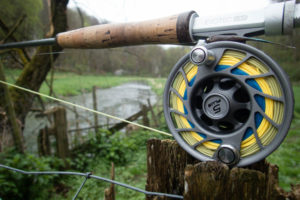 In fact, we quickly realized that there was plenty of fish in the water! Mostly browns, but an occasional rainbow as well. All fish were extremely beautiful,  even the rainbows with are usually ugly stocked fish. Not these!
The fish were strong and not easy to fool. When we hooked a better one, they fought very clever, and more than once did verbal expressions of displeasure echo from the innocent limestone cliffs of the valley. Nevertheless, these emotions added to the wonderful fishing experience. We did land several amazing fish beyond 20inch and many more below. We rejoiced at every turn of the river for the beauty of the water and the landscape…. it couldn't have been better anywhere else, not even in Slovenia. Sometimes the good lies close at hand, you just have to see it.