The hawthornfly is here! Fly fishers usually call it by its Latin name "bibio" and you will also find it under this name in most of the flyfishing literature. I mentioned this fly already in my last post, and it came even better than I had hoped fore! In fact I think I underestimated the bibio completely in the last few years.
The bibio appears in large numbers towards the end of April or beginning of May. And this year I learned that they have to potential to raise even the big fish from the deep of their pools.
Better than mayfly-time?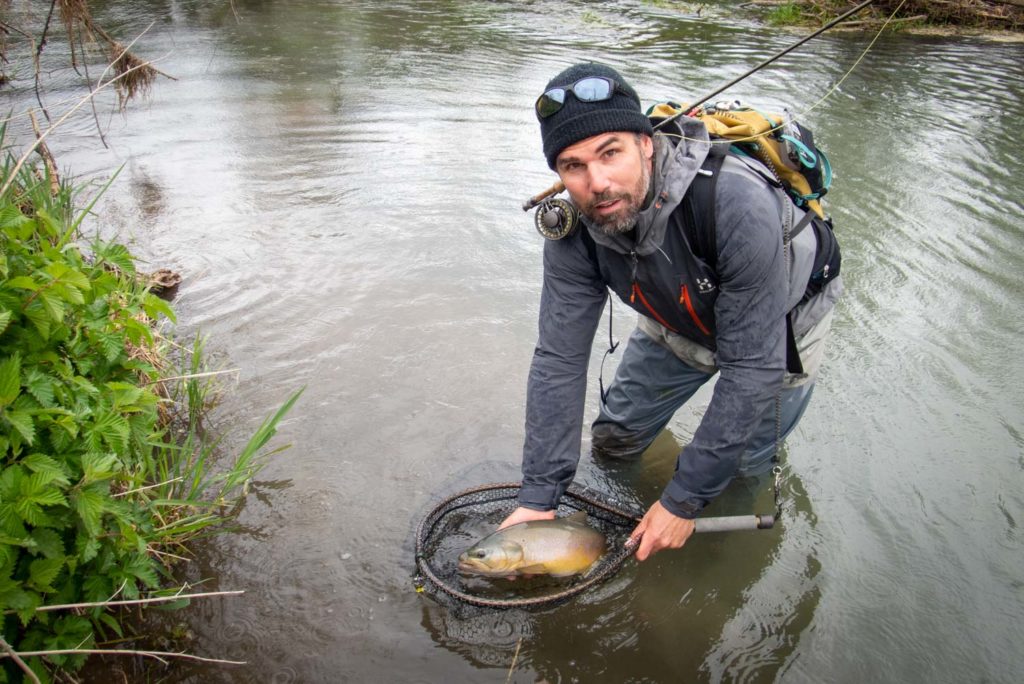 What I experienced in the last few day is absolutely comparable to fishing during mayfly-time, except for the fact that the weather was really cold and ugly most of the time. My to young sons, who usually love to accompany me to the water, were quickly feeling so cold that I had to stop fishing and take them home. It was a mixture of sun and rain, wind and even hail. But perseverance paid off!
You have to like the weather – or endure it.

As soon as the rain ceased for a minute or the sun was out, the bibios swarmed around the bushes by the dozens, and the next gust of wind or rain would throw some of them into the water – where the trout awaited them. The fish were therefore not rising regularly, and sometimes I waited for a long time on a promising spot to see if a fish would show up. And sometimes I would just cast below or behind a bush, hoping to find a trout there – which did work out many times!
In some sense, it was even better than fishing in a mayfly-hatch because it was a bit more of a challenge, and the feeling accordingly even more rewarding! Catching a 20+inch browntrout on a size 14 dryfly is absolutely fantastic, it does not get any better than that!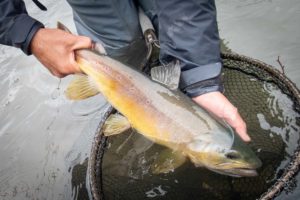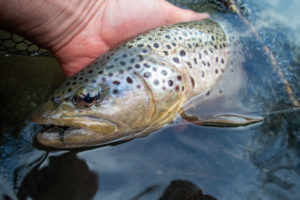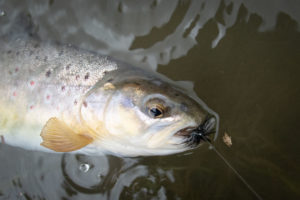 You never stop learning…
In fact, I had not been aware that it is possible to catch such big fish so early in the year on dries. That particular little stream is pretty deep and usually a nymph or even a heavy streamer is the weapon of choice in spring. But you never stop learning! A few years back, I had not even paid any attention to those black flies, I did not know their name or understand that they followed a specific pattern in the yearly cycle…
And here I am, learning more and more about entomology, and even my kids are fascinated the more I tell them about those "bugs"… and step by step I understand better, catch better, and have more fun doing so. Probably that is, what makes fly fishing so addictive: No year is like the other, even two days on the water will never be alike, mostly because you yourself are never the same. You always learn, always improve, and you realize what else is there to know. It never gets boring.